We have recently aquired two SparkBoard 55.   These are located at avenue Italie site, in the following meeting rooms:
Italie I304       (sparkboard-i304.r2.enst.fr)
LINCS I426    (sparkboard-i406.r2.enst.fr)
The sparkboards are useful for videoconferencing, screensharing and meetings with the interactive whiteboard. While you can use them as simple 4K projectors (through HDMI), to get the most out of it you should access to their functionalites through the Cisco Spark application (get it at https://www.ciscospark.com/ ) and enrich it with the plugins for integration with calendar, filesharing, etc. (get them at https://depot.ciscospark.com/ ).
With the Sparkboards, we also benefit of 2 WebEx and Spark pro accounts, allowing us to setup video calls up to 200 participants and Spark rooms up to 25 participants. To check the status of Spark cloud support, see https://status.ciscospark.com/
---
Getting started 
Install the Cisco Spark Application (MAC and Windows only).
Click on "get started" and put your e-mail address.
Check your e-mail to create your password.
Sign-in on your application
Spaces 
Spaces are used for sharing content among Cisco Spark users. A user can be logged on multiple endpoints.
Create a space by messaging someone or clicking on:
Interact in your space clicking on  and selecting one of the activities: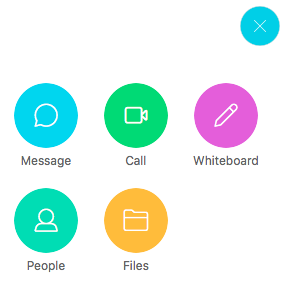 Screen-sharing 
Click on  (top right corner).
Select the desired SparkBoard or other endpoint.
The SparkBoard should then open your screen-share.
Notes
You can also screen-share during a call
Mind that animations may not run smoothly
Screensharing for Linux users
Access the cisco application from Firefox: https://web.ciscospark.com/

The Firefox version is important. It works on Firefox version 57

Make a call to the SparkBoard:Click here and the select the sparkboard
First click here   and then here

In case the SparkBoard does not appear in your list / search bar, try calling your device from the SparkBoard first

Click on "Start Screen Sharing": 
Finally, give Firefox permission to share your screen: 
Troubleshooting 
These steps concern the Cisco spark itself.
---
We'll be constantly enriching this page with useful informations and pointers to let researchers at Telecom ParisTech being able to get most out of these new gears!